How Do I Download and Install Third-Party Apps for iOS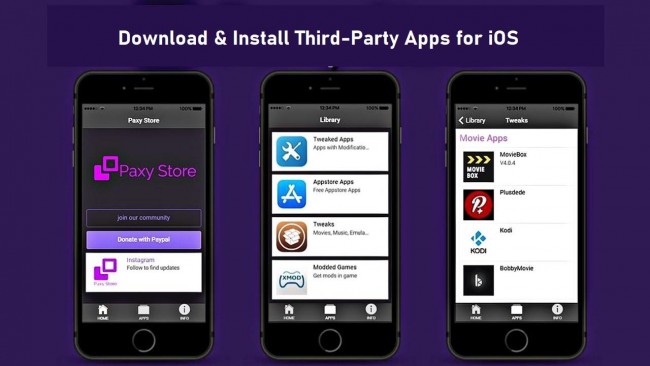 There are many ways to download apps for iPhone or iPad but the users face many problems while downloading those apps from some sites. In the iPhone, there is no possible way for users to backing up their data using apple iPhone apps such as iTunes.
Luckily there are many third-party tools available to download iPhone apps without the help of iTunes. However, the third-party tools require jailbreak iDevice to install apps without any jailbreak. For any iOS app management software tool is the only solution to install and maintain third-party apps. It is virus-free software to work on your system, it is 100% safe and secure for iOS.
You can download this app from the Apple play store and then install it to easily transferred downloaded apps to your iPhone. By using this app you can delete, upgrade apps in one click and manage many apps on your device and at the same time, you can restore the older versions. One more benefit is to install multiple apps at the same time which are placed in your library; you can select and install it using smartphone devices many times you want. This app helps you to maintain all your contacts, message, photo, videos, etc.
It is a legal way to install apps because app management is officially implemented Apple iOS OTA app distribution program but some third-party apps might be used for illegal activities but those these things legal by themselves. But those activities are not allowed in-app management software which covers security and user safety. Mainly it is a user's responsibility to decide which app you want to install and how you want to use them without any illegal activities.
Using this software to helps you to get extra features like getting thousands of themes to customize in your iPhone and you can download multiple modified applications like Twitter, Instagram, Snapchat and many apps that are not available in your device. This app allows you to easily get paid application free and you don't need to pay for your favorite apps. It is good for gaming peoples who can even download hacked games, applications and emulators.
Best Apps Stores For iOS
Most of the present-day iPhone users mostly used Tutu, AppValley, iNocydia, Emus4u app stores; it is famous among iPhone users. These apps make the user to feel user-friendly and provide multiple featured options such as free memory, deleting the bulk application you want. Actually, it is Chinese software and it gets too much response from users so latterly update the English version for users to use it easily.
Features of iPhone app stores
Download paid apps totally free.

It provides the best user interface that users do not convince how to use it.

Junk feature cleaning is available.

Offers emulators to install Android applications to your device.

Totally secure and provides a chart option to find the trending applications.

It is a high-speed app downloading.

Used in non-jailbreak devices.

Movie box is available for movie lovers to watch thousands of movies whenever you want.

It does not require users to register to download apps.

Millions of applications to download.

A built-in cache cleaner is available.

The user interface is well developed.

No advertisements to make user irritating.

It has a report button to submit any issues with the applications.
User satisfaction
When it comes to user satisfaction, Apple customization is too low and it is hard to customize the apple device that's why we are looking for third-party apps to make it easier to get satisfied with our device. Normally multiple third app stores are available for users to get satisfied to download their favorite ones. Some apps are complex to download and provide so many features you want. By downloading such apps from the outside of the Apple store named the third party is worked really well and don't want to jailbreak the user's device.
Are you bored of using the Apple AppStore?
Apple app store is designed for discovery and makes it easy for users to discover new apps that are going to love. Keeping up all these apps in our device is a full-time job for every user and many apps are paid services. That's why people prefer third-party apps to get exploring new things on the iPhone. Apple phone has a million apps but very few users only use those apps that make the truly valuable for them. One of the most unsolvable issues in apple store is inconsistency with review guidelines since 2008.
Risks in third party apps
Third-party stores may not apply the same scrutiny level when they allow being installed on their own app stores. It is tricky and provides so many applications you want and might be a higher chance that is all dangerous one. Those apps you download from the third party lead to infecting with malware virus of your mobile devices.
The store sells applications for cheaper prizes which sound good but bargain buying leads a user at private risk. Such kinds of app stores get user's private information such as phone numbers, device information and so on. It is relatively easy to make and everyday people use it being lots to the user. Make sure only very few apps get a good reason to ask your location or any other personal details related to your device. There are surely some good and trusted third-party apps are available but the whole thing has been poisoned by others who are in the industry.
App stores are helpful
There are some app stores are available to make user satisfied and helpful to get shared with their loved ones or friends. Everyone should try to find apps that are not in your store then you check it in another store. Using that app store does not require jailbreaking one for sure. Consumers mostly prefer third party software because it is often updated when compared to the Apple app store and it has unique functionality than the Apple store. There is a good reason for using third party apps are comparatively provide good security and user needs functions.
© 2020
Game & Guide
All rights reserved. Do not reproduce without permission.
Join the Conversation