Best Gaming Android Emulator for Windows PC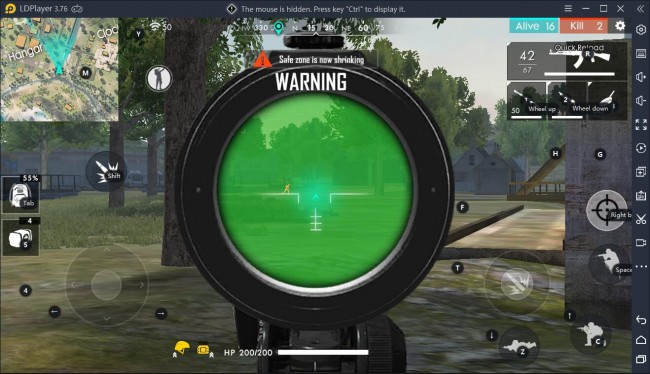 Have you ever played mobile games on your large screen computer? Well, PC gaming has become possible for most Android games as many well-developed Android emulators pump into the market, including BlueStacks, Nox Player, GameLoop, Memu App Player, etc. But if you're looking for the best Gaming Android emulator for your Windows PC, you should come to LDPlayer.
What is LDPlayer?
LDPlayer is a free Android emulator for PC, which emulates the Android environment and works like a real mobile phone on your computer. It helps you to run Android games/apps on your desktop with a number of powerful features. As LDPlayer highlights the experience of playing mobile games on PC, it really drowns every gamer into a gaming paradise.
Why LDPlayer is the Best Gaming Android Emulator?
LDPlayer is surely a powerful way of playing mobile games on your computer. It can make use of the virtualization technology and provide very fast performance. Therefore, enabling the VT on your computer is a very important step to speed up your virtual machine and make LDPlayer a blazing fast Android emulator.
Also, the intuitive interface and lightweight design can get you experience the Android operating system smoothly without having to worry about any lag or restrictions. Everything is simple on LDPlayer. Besides its speed and performance, LDPlayer offers many useful tools and features to take the experience to the next level.
Multi-instance: Turn Your Computer into Several Phones
LDPlayer comes with a multi-instance feature which enables users to create several instances. Each instance will run separately. You can launch multiple mobile games/apps in different windows at the same time, which is pretty helpful if you want to experience multi-tasking. With this stunning feature, you are able to use only one powerful computer to complete the tasks that would require several phones.
Keymapping: Control with Keyboard&Mouse
Keymapping on LDPlayer allows you to play mobile games on PC with keyboard and mouse controls. You can get the real PC like gaming experience by setting up your own custom keymap for different Android games. Also, the intuitive controls can give you a competitive edge over other players who are not using LDPlayer.
Operation Recorder: Write Creative Scripts and Execute Macros
Operation Recorder is a pretty useful tool for writing macros on LDPlayer. Simply put, macros are sequences of commands that you can record to help you complete some tasks effectively. If you're playing Clash of Clans on PC with LDPlayer, you can use this tool for automatic farming, battling and training. Though this is not a very common function, it will still come in handy when you have the right mindset and a bit of creativity.
The perfect All-in-one Android Gaming Platform for PC
As a free Android emulator for PC, LDPlayer has almost all features that an Android device has, including integrated video capture, screenshot, shake, virtual GPS, shared folder with the host operating system, external APK installer, etc. It also offers exceptional features on the setting menu to bring more fun and convenience to your gameplay.
How to Play Mobile Games on PC with LDPlayer
It's very simple to use LDPlayer as long as you are familiar with the Android environment. Also, one pro is that LDPlayer doesn't have an intrusive interface like BlueStacks and contains lesser ads than any other emulators. So, you can easily get your favorite Android games installed on LDPlayer and play with a fast loading speed.
Install LDPlayer on Your Desktop First
Getting started with LDPlayer is very simple. You just head to LDPlayer official site and download an online installer from the homepage. You will be installing this free PC software on your computer in a minute. They also have offered a comprehensive emulator guide where you can find more details about the emulator.
Download Your Game from Google Play
After you finish the setup of LDPlayer, open the emulator and search for the game you want to play on PC. You will see a search bar right on the homescreen. This is the safest way to download any games on LDPlayer. Besides that, you can also try the APK installer if you prefer to download the APK files from other sources.
Configure Your Controls to Begin Playing
Playing Android games on pc is totally different from mobile gaming. Before you start playing some games like Free Fire, Mobile Legends, and Black Desert Mobile with LDPlayer, you need to configure a custom keyboard mapping or use the default one they offered to control your gameplay.
Conclusion
We've tried to play Free Fire on PC with LDPlayer and the gameplay is very smooth. Compared to many of the most popular emulators like Nox, BlueStacks, and Memu, LDPlayer offers better performance for gaming, which makes it the best gaming Android emulator for Windows PC. If you're finding an alternative to play phone games on your computer, then LDPlayer is the answer you have been looking for.
© 2020
Game & Guide
All rights reserved. Do not reproduce without permission.
Join the Conversation