'Xbox Free Play Days' will Give Away 'Super Monkey Ball -- Banana Blitz HD,' 'For Honor,' and 'The Survivalists': How to Get Your Copy of These Games for Free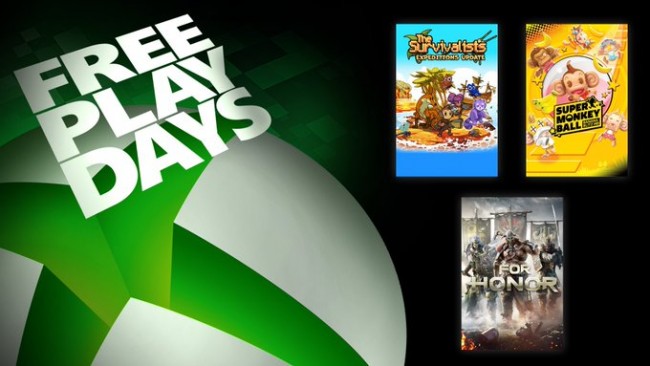 For this coming weekend, Xbox's "Free Plays Days" will be giving away three free games for Xbox Live Gold and Xbox Game Pass Ultimate members. For a limited time only, the free copies of "Super Monkey Ball: Banana Blitz HD," "For Honor Standard Edition," and "The Survivalists" are up for grabs.
Aside from the free games giveaway, Microsoft will also offer a limited time discount to all editions of the aforementioned games titles.
Keep the Ball Rolling with "Super Monkey Ball: Banana Blitz HD"
A high definition (HD) remake of the same title, which was released on 2006 by Sega for the Nintendo Wii console, "Super Monkey Ball: Banana Blitz HD" was released worldwide on October 29th, 2019 for the Nintendo Switch, PlayStation 4, and Xbox One, and on December of the last year for Windows PC through Steam.
Survive, roll, and slash. Not necessarily in that order.

The latest Free Play Days lineup is here: https://t.co/MK2S85C2zZ pic.twitter.com/gfbLffzoxq

— Xbox (@Xbox) July 15, 2021
Much like the original Wii version, the HD version has 100 colorful main game stages for players to play. According to Devdiscourse.com, they can play as one of six playable characters, all of which appeared in other Super Monkey Ball games, to "take back the bananas taken from the space alien pirate king, Captain Crabuchin."
READ ALSO: "#freecodefridaycontest:" How to Win Your Own Xbox Game Code Every Friday
In this version, however, Sega's mascot, the Blue Blur himself, Sonic the Hedgehog appears as a playable character.
The game also features 50 Mini Games in total, with 10 fan-favorite Party Games for players to enjoy, as well as a Time Attack mode or the grueling Decathlon to test them if they are the fastest, most maneuverable monkey around.
Get Medieval with "For Honor"
Released on 2017 by Ubisoft for Windows PC, PlayStation 4, and Xbox One, "For Honor" is set in a fantasy medieval setting, where players can become a warrior from one of the four different factions - the Iron Legion representing the Knights, the Warborn representing the Vikings, the Dawn Empire representing the Samurai, and the Wu Lin representing the Ancient Chinese.
Each faction has its own Heroes representing one of the four classes - Vanguard, Assassin, Heavies, and Hybrid. Each are unique in terms of weaponry, skills, and fighting styles. There are 28 Heroes playable, each wielding a unique weapon from history.
Players fight against each other with their class-specific melee weapons, and after performing an action, they would gain "Feats." These Feats allow players to gain additional points, strengths, and other in-battle abilities including calling in a barrage of arrows or a catapult attack.
According to GameFreaks365.com, players can storm castles and fortresses in massive AI-aided mission battles while confronting bosses in intense duels or test their mettle with other warriors through different Multiplayer game modes.
Test your Endurance with "The Survivalist"
Released on 2019 by Team17 for the Nintendo Switch, PlayStation 4, Xbox One, Xbox Series X|S, and Windows PC through Steam, "The Survivalists," according to Thumbsticks, is a survival sandbox game which is a spin-off to the 2015 game, The Escapists.
The game will make its players survive in an island by maximizing its resources that will be used in ways, from preparing food to crafting for shelter, clothing, and weapons that can be used to fight against an array of mythical enemies and wild animals, as well as exploring said island for an adventure.
They can also get quests from the Mysterious Stranger or find them washed up on the shore, which it can be accomplished alone or with friends.
They can even tame monkeys and trained to be their builders, lumberjacks or soldiers to help them with everyday tasks or backing them up on raids.
How to Get them for Free
Players can get their free copies of "Super Monkey Ball: Banana Blitz HD," "For Honor Standard Edition," and "The Survivalists" and play them for a limited time until Sunday, July 18th at 11:59 PM PDT.
According to the blog post in their Xbox Website, Microsoft said that in order to receive those free copies, they need to go to the Microsoft Store, where they will sign in to see the option to install said games with their Xbox Live Gold and Xbox Game Pass Ultimate membership.
To download on the console, they need to click on the Subscriptions tab in the Xbox Store and enter the area dedicated for Xbox Live Gold subscribers to locate the collection on their Xbox One.
Their game scores, achievements, and save states will be kept, and will be transferred to their respective games once it is purchased. The games will be discounted up to 75%, depending on what region the buyer is from.
READ ALSO: Epic Games Store Free Games Guide: How to Grab Sonic Mania, Other Games for Free
© 2020
Game & Guide
All rights reserved. Do not reproduce without permission.
Join the Conversation