'Genshin Impact' Patch 1.6 Update: How to Redeem Codes Plus New Banner, Weapons, Characters to Expect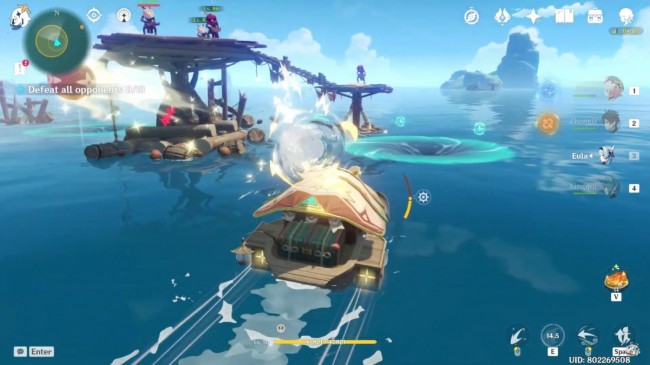 Genshin Impact will have its major update that will introduce its players to a new adventure in a new island. Dubbed the "Midsummer Island Adventure," the Patch 1.6 Update will not just give their players a new island to explore but also new enemies to face as well as a new Banner that the players will enjoy.
But before they enjoy the sights and sounds of the "Midsummer Island Adventure," players will need to wait for the game's maintenance, which started few hours ago today, June 9th, at 11:00 PM EST (11:00 AM several parts in Asia).
According to the notice that was posted in their website, Mihoyo, the game's developers, said that the maintenance itself will last for estimated 5 hours, but according to Sportskeeda.com, it might be earlier or later than expected.
"Midsummer Island Adventure" Version 1.6 Update Details

Dear Travelers,
Below are the details of the Version 1.6 update "Midsummer Island Adventure" and the update compensation.

View Details Here:https://t.co/KWPQba9Rru#GenshinImpact pic.twitter.com/2EoFvaFGV8

— Paimon (@GenshinImpact) June 8, 2021
Players who experienced the said maintenance will receive 60 Primogems as compensation so as long as they are Adventure Rank 5 or above. If the maintenance took less than 5 hours, like what Mihoyo estimated, they will receive 300 Primogems instead.
READ ALSO: Nintendo Switch Patch 12.0.3 Update: How to Download New Firmware Update and What to Expect
Dodo Land Awaits You
In "Midsummer Island Adventure," players will have a chance to venture in the island of Dodo Land. But along with the adventure is the dangers that lies beyond. According to Express.com, the event will be divided into four 'acts,' with four mini-games, each had a unique gameplay.
Before you proceed in the quest, you need to unlock it. According to Game8.com, you will need to first accomplish both the "Prologue: Act III" and the "Klee's Story Quest" missions.
In "Act I," players will travers the waters while sailing in a Waverider. They must destroy the floating towers and encampments, either through firing its cannons or in close combat.
In "Act II," players will be challenged in a race that combines both sailing and flying while collecting Wavesplitter Insignias.
The "Act III" of the event will introduce the new enemy, the Maguu Kenki, to the players where they will test their combat skills. And finally, in "Act IV," players can clear out the monster encampments within the island with the help of Harpastum Bombs.
According to the notice, the Dodo Island will be only available during the duration of the "Midsummer Island Adventure," which means you only have until the end of the event to open treasure chests, gather materials, or earn quest materials.
These minigames can be unlocked if you fulfill a specific quest while waiting for its unlock date, with the exception of "Act I," which it will be unlocked along with the launching of the Patch 1.6 Update. "Act I" will be unlocked if you accomplish "Mysterious Islands: Journey to the Unknown" quest.
For "Act II," you must complete the "Summer Vacation: Proceed with Caution" quest on June 11th, while for "Act III," you need to complete the "Dodo-King of the Sea: Lying in Wait" quest on June 14th.
For "Act IV," all it needs is for you to complete the "The Final Riddle: A Secret Uncovered" quest on June 17th.
New Banner, Weapons, Characters
For every Genshin Impact update, there will always be a banner rotation. For this Patch 1.6 Update, Klee will be featured as a 5-star banner during the "Sparkling Steps" wish event.
According to Sportskeeda.com, the 5-star DPS character who does Pyro-based attacks is one of the characters that will be in the banner, alongside the 4-star characters Barbara, Sucrose, and Fischl, all of which will receive a huge drop-rate boost.
A new character, Kaedehara Kazuha, will be appearing in the game during the patch update. A 5-star Anemo user, the character utilizes his sword attacks with his element such as "Chihayaburu" and "Midare Ranzan."
New weapons will also be included in another new banner dedicated for them. In the "Epitome Invocation" weapons wish event, according to Sportskeeda.com, will include the 5-star "Lost Prayer to the Sacred Winds" catalyst and 5-star "Skyward Pride" claymore.
Along with it is the new weapon, a 4-star "Mittermachts Waltz" bow, as well as other 4-star weapons like the "Lion's Roar," "The Bell," "Favonius Lance," and "The Widsith."
New skins for Barbara and Jean are now obtainable during the patch update. According to Mihoyo, Barbara's new skin is a "Echoing Tales" event reward, while Jean's new skin will be sold for 1350 Genesis Crystals for a limited time during the patch update.
Other optimization changes will be implemented in the Patch 1.6 update, including an additional navigation function for tracking, new keyboard shortcuts for PC, and detailed information to the domain entry screen.
Redeemable Codes
Players will also receive a treat from Genshin Impact in a form of Redemption Codes, which they can use for their characters, whether it is Primogems, Mora, or experience points.
In a post made in their Facebook page, Mihoyo revealed the Redemption Code, "GenshinEpic," which they can be used for a limited time. Also, Spiel Times revealed other Redemption Codes that players can use such as "SBNBUK67M37Z" that is useful for new Genshin Impact players.
In order to redeem these codes, you must launch the game first, then go to the in-game menu, where you can found the "Settings" tab. After that, go to the "Account" tab, then click the "Redeem Code." Once you are there, click the "Redeem Now," where you can proceed to enter the Redemption Code.
After you input the code, click "Exchange." The rewards from the code will be sent to your in-game mailbox afterwards.
READ ALSO: MH Rise Update 3.0 Switch Axe, Counterstrike Guide: What Good Builds, Moves are Suitable for the Job
© 2020
Game & Guide
All rights reserved. Do not reproduce without permission.
Join the Conversation